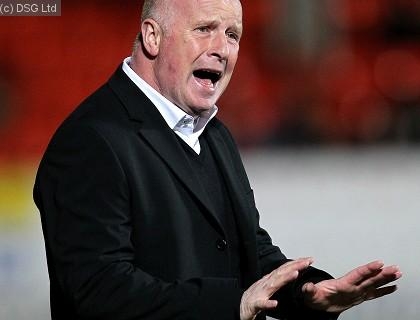 Gardyne happy with Rudi awakening

Dundee United midfielder Michael Gardyne welcomes the competition from Rudi Skacel ahead of a possible full debut for the Czech forward against his former club Hearts.

United play Hearts in the Scottish Communities League Cup quarter-final at Tannadice seeking to build on their first Clydesdale Bank Premier League win since August, when Skacel made his debut at St Mirren on Saturday. Speaking at a Tesco Bank Football Challenge event in Dundee today, Gardyne said: "The boys are feeling good. It was good to get the three points on Saturday, we needed that, and it gives you confidence going into such a big game tomorrow night.

"Our squad's looking a lot better these days, with Rudi coming in; Gary Mackay-Steven's going to be back either Wednesday or Sunday (against Celtic). It's good competition for places.

"I wouldn't have it any other way; you want the competition as it keeps you on your toes.

"The players we've got coming in are great quality so it can only benefit Dundee United."

Skacel had been training with Hearts, who he left for a second time after winning the Scottish Cup in May.

A third spell at Tynecastle was mooted before Hearts were last week handed a transfer embargo for delayed payment of player wages and United boss Peter Houston unveiled the former Southampton and Marseille forward on Friday.

Gardyne added: "He just came in on Friday morning and he was in training that day. He's been brilliant since he came in.

"He's got a wealth of experience, so it can only be good for the young boys in the team and for Rudi himself - he's just looking to play games.

"He's played at Hearts for a number of years and played international football so it's someone great to have in the squad."

Mehdi Taouil expects former team-mate Skacel to lift United and has warned that the Czech is fully ready to inflict damage against his former club.

Hearts midfielder Taouil said: "He had to play and to sign somewhere. It wasn't possible here so he signed for United.

"I hope they are going to get a lift after Wednesday's game but not for Wednesday's game.

"I hope he's going to do well there because I really like Rudi and he's my friend."

Skacel had been training with Hearts after leaving the club for a second time after scoring in his second Scottish Cup final triumph.

Taouil said: "He's fit, he has been training here with us and you couldn't see that he didn't have a team for a few months."

Hearts manager John McGlynn admitted the "infectious" Skacel could give United a lift but he listed numerous danger men in Houston's team.

"With the greatest respect for Rudi, he's a great guy and a living legend at Hearts, the fans love him and I'm sure he loves Hearts, but it would a bit wrong to think that Dundee United are now a one-man band," McGlynn added.

"I wouldn't want to be sidetracked and forget the focus because there's no guarantees that Rudi will start or even participate.

"I'm not too bothered about it, I'll worry about that when and if it comes about."



Source: PA
Source: PA