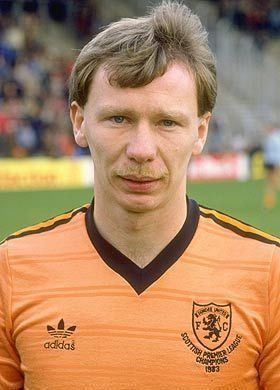 David Dodds (born 23 September 1958)
David Dodds is a Scottish former football player who played for Dundee United, Aberdeen and Rangers in the 1980s. During his playing career, he scored over 100 League goals, and earned two Scotland caps.
Dodds was born and brought up in Dundee and started his playing career at Celtic Boys Club, aged 9.[1] However, at the age of 14 he signed schoolboy forms with local club Dundee United. Developing into a promising striker, he turned professional with United in 1975, but was initially part-time while also serving an apprenticeship as a painter and decorator.
Dodds made his first team debut for United against Arbroath in 1976, but it took several years for him to fully establish himself as a first team regular. During the 1977-78 season, he played several games for Arbroath on loan, and shortly afterwards he signed a full-time contract with the Tannadice club.
Dundee United at this time were developing into one of the strongest sides in Scotland. Despite playing in some of the earlier rounds, Dodds missed out on the Scottish League Cup final in 1979 when the club lifted their first ever major trophy, but the following year he was part of the side that defeated city rivals Dundee in the final to retain the cup. He scored United's first goal in a 3-0 victory at Dundee's Dens Park ground.
By this time Dodds was featuring regularly in the side and forming a profitable attacking partnership, as a "target man" alongside the diminutive Paul Sturrock. In 1982-83 they were part of the United side that lifted the Scottish League title for the first time,[2] with Dodds contributing 22 goals. The following season saw Dodds star in the club's run to the European Cup semi-finals.
Despite this run of success, Dodds was becoming unsettled at Dundee United. Despite the efforts of manager Jim McLean to keep the player at Tannadice, he left the club at the end of his contract in 1986.
(via Wikipedia)